Salesforce Administrator Certification Course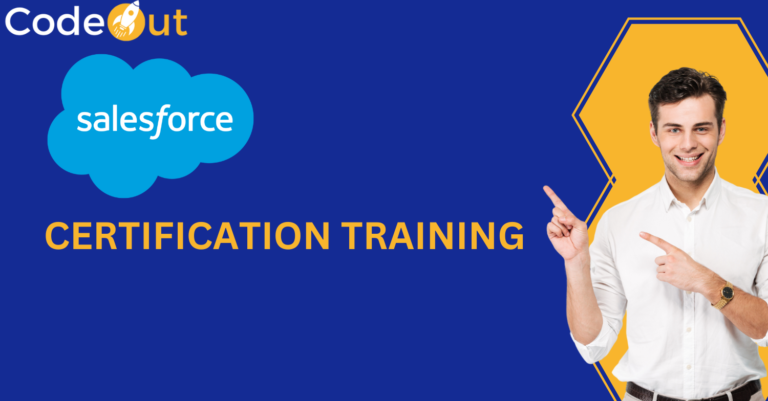 Codeout. in offers comprehensive online Salesforce training curated by industry professionals. This training is designed to prepare you for the Salesforce Administrator Exam (CRT 101) and the Platform App Builder (CRT 403) certification exams. Throughout the course, you will gain hands-on experience in customizing your Salesforce application, including page layouts, fields, tabs, and business processes. You will also learn how to create a secure Salesforce environment, maintain clean data through imports, and develop high-value reports and dashboards. Additionally, the training covers workflow automation setup, empowering you to become a proficient Salesforce professional.
4.9 out of 5 based on 1826 votes.
Instructor-led Training Live Online/Offline Classes
Course Price Starts
At INR 22500
No Cost EMI Available, Starting from 6,000/mo. See Course Bundle
Not sure? Talk to our advisors
Why enroll for Salesforce Certification Training?
About your Salesforce Certification Training
Salesforce Certification Training Benefits
The global salesforce services market is set to top US$ 13 Bn in 2022, and is predicted to expand at a CAGR of 14.4% to reach a valuation of US$ 33.5 Bn by 2029. With this increased demand for Salesforce worldwide, the demand for Salesforce professionals across the globe is also increasing. According to IDC, there has been a huge increase in jobs that require Salesforce skills, and the Salesforce ecosystem is predicted to have 3.3 million new jobs and over $850 billion in revenues worldwide by 2022. The best way to land you a good job with a handsome salary in this domain is to get a Salesforce Certification.
Course curriculum for the Masters in Data Science program
About your Salesforce Certification Training
 – 6 Months Online Program
– 130+ Hours of Intensive Learning
– 9+ Assignments & 6+ Projects
– 2 Live Projects
– Build an Impressive Resume
– Get Tips from Trainer to Clear Interviews
– Attend Mock-Up Interviews with Experts
– Get Interviews & Get Hired
Like the curriculum? Get started
About your Salesforce Certification Training
Why Salesforce Admin Certification Training from Codeout
World-Class Instructors
Expert-Led Mentoring Sessions
Instant doubt clearing
Course Access Never Expires
Free Access to Future Updates
Unlimited Access to Course Content
One-On-One Learning Assistance
Help Desk Support
Resolve Doubts in Real-time
Industry-Relevant Projects
Course Demo Dataset & Files
Quizzes & Assignments
Codeout Training Certificate
Graded Performance Certificate
Certificate of Completion
Like what you hear from our learners?
Who can go for this Salesforce Certification?
Codeout® Training Certification
About your Salesforce Certification Training
About your Salesforce Certification Training program
What Our Students Says About Our Salesforce Certification Training..
"Codeout's Salesforce training not only helped me acquire the necessary skills and knowledge, but also opened doors to my dream job in the industry.
With the comprehensive training and support from Codeout, I was able to land my dream job as a Salesforce Administrator and feel confident in my abilities thanks to the hands-on experience and real-world scenarios covered in the course.
After completing the Salesforce training at Codeout, I was able to secure my dream job as a Salesforce Administrator and attribute my success to the hands-on experience and expert guidance provided by the instructors.
Salesforce certification Training FAQ's
Other Career Related Programs
Salesforce Certification Training Course
Digital Marketing Certification Training Course
SAP Certification Training Course
Data Science Certification Training Course
Data Science Certification Training Course